Do you want to Start A Business, Build Your Business, Sell Your Business?

Imagine what your life would be like if you had clear thinking, energy and excitement every day!

As a Business & Health Coach Vicki will be your advocate for living an energized & passionate life.

Whether you need help with your business or your health, I am here to create a supportive environment for you while we explore what you can do to be your best.

Networking: Practical Advice YouTube

Vicki Donlan, Coach

for Women in Business

Read about Vicki HERE!
READY TO LEAD? Order HER TURN today by clicking this link or below!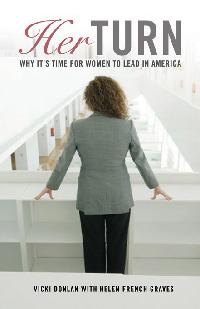 Her Turn: Why It's Time for Women to Lead in America
You have the power and influence to succeed
now it's your turn to make it happen!
History will be made in 2012 as women become the majority of the workforce. Are you ready to lead? Are you ready to build your brand? Are you ready to challenge yourself and your business? Are you ready to position your business for sale? Are you ready to be coached?
Email Vicki today to schedule a business consultation vicki@vickidonlan.com
Follow me at twitter.com/vickidonlan
Find me on www.linkedin.com/in/vickidonlan
Check out my facebook page at www.facebook.com/people/vickidonlan/1378274616
Or Call Vicki at 781-749-3350 between 9 a.m. and 5 p.m. EST
Looking for a keynote speaker for your next conference or meeting?
Contact vicki@vickidonlan.com for a memorable event and motivation for a lifetime. Ask about our special rates for colleges and universities.
Here's Vicki with Jane Fonda at a conference in Asheville, NC